Quilt with a hole Holey Quilt®
For everybody who sleeps with the quilt in between their knees
Do you do that too? Everytime, when you lie on your side, you put your quilt in between your knees?
Quilt with a hole Holey Quilt® has been made exactly for you.
---
---
Holey Quilt® the 2. best business idea of the year!
We recieved with our Holey Quilt® 2. place in a competition Ideas of the year 2014 held in September 2014 in Bratislava, Slovakia.
Official results
---
Holey Quilt® TV spot
Watch official promo video of the only quilt
with a hole for a leg, Holey Quilt®.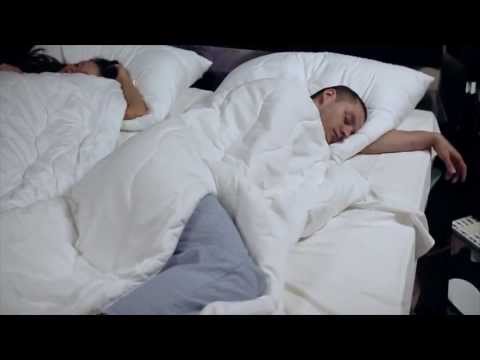 Holey Quilt® in real life
Watch this video describing what Holey Quilt® is and how exactly it works.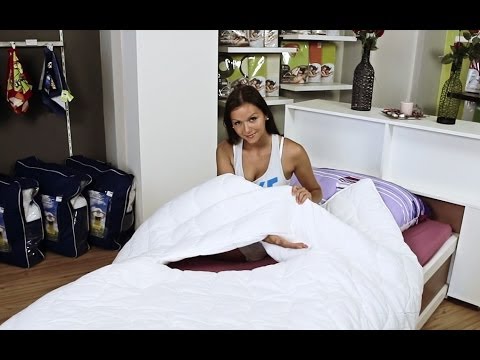 ---
Do you like the idea?
---
---
Press coverage in Slovakia and Czech Republic
"I used to wake up at night, because when I slept on a side my back was naked. Since I have this Holey Quilt I'm always covered. My sleep is better and more comfortable. I can only recommend this great invention!"
"I'm looking forward to sleep with my new quilt, with which I will finally have my back covered and my leg ventilated. Great idea for people who like to sleep this way!"
"I don't have to unsew the quilt anymore, there is a hole already."
"Quilt with a hole, great for warm summer nights."
---
What do you think?
---
Unexpected success
Brilliant ideas are the simplest ones. A simple hole turned a regular quilt into "superquilt".
Honestly, we didn't expect this small simple idea to be that successful. People tend to like our idea and they are enthusiastic. What's even better, ones they try Holey Quilt® they are enthusiastic even more. Look at some of their reactions.
Hello. I'm glad I've bought your quilt with a hole. I sleep great since then. Thanks.
I used to wake up at night, because my lower back was uncovered. Since I have holeyquilt, I'm always covered. Thanks for the idea.
I've bought holeyquilt to my husband. I couldn't watch him tossing and turning all night long. He laughed at me first, but then he realized that he slept better
My first reaction was a smile. Later, when my friends confirmed that it worked, I ordered your funny quilt and I don't even wanna see the old one;) simply new one instead of the old one
great idea, how a hole can change old habits. Thanks a lot.
I was really curious about the closing, because the buttons on regular quilts bother me a lot. I always had to turn it over, so the buttons were at the bottom. Holey quilt elegantly solved this and I even sleep healthy now… Good purchase.
Such crazy idea for a quilt with a hole and so beneficial. I cannot stay without my one. Thank you and wish you all the best!
My girlfriend doesn't let me use my Holey Quilt. She wants it every night!
I have bought Holey Quilt for my husband, who is extremely satisfied.
---
Made in Slovakia
Products Holey Quilt® and Holey Cover™ are made in the heart of European Union, in Slovakia.
---
Do you like Holey Quilt®?
---
© All right reserved
We owe an international, wordwide industrial patent for a quilt with a hole and a quilt cover with a hole.
Holey Quilt® and Holey Cover™ are trademarks of HOLEY QUILT, s.r.o.